The L-Bow unit is made to be compact and mobile. However, your project may need to elevate the gangway to get in line with your project landing platform.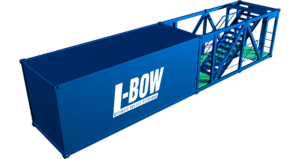 Project specific engineering of a subframe comes at a cost (time and money) as an elevation frame must be designed, engineered, checked, certified and build before it can even be mobilized.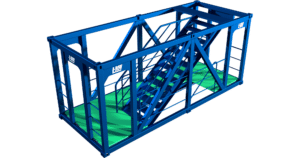 With our elevation modules you elevate the gangway without the need for a project specific frame. Our elevation modules are building blocks readily made and certified to get the gangway to an elevation. The standardized interface frame will take care of the connection of the modules to your vessel.
These modules contain a staircase connected to the gangway, subsequently it can be outfitted with options like a dry room, a lavatory, storage or work shop. Creating your own tailor made solution.
General information
| | |
| --- | --- |
| Dimensions | 20/40ft HC container |
| Weight | 10 t |
| Interface | Mechanical |